"Alzheimer's treatment starts with understanding why the brain was damaged" – Allen J. Orehek, M.D.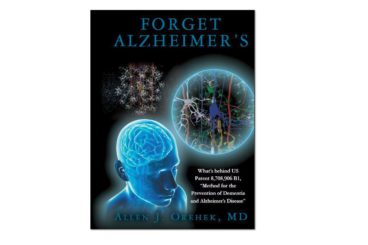 Alzheimer's treatment starts with understanding the cause. This book takes you through the steps needed to become your own expert as you find out the reason. Work with us for any type of dementia. We can help at any stage of the brain issues. For early Alzheimer's, Senior moments, and any problems with mind or memory - Get a copy on amazon.com or contact us and we will get a copy to you.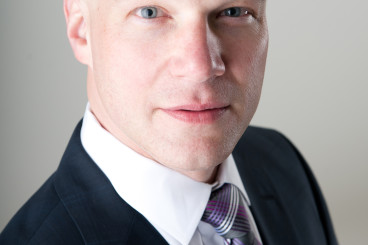 Meet the Doctor
Allen J. Orehek, M.D specializing in treatment of Alzheimer's disease and dementia. Our doctor is board certified in Internal Medicine and in Pediatrics - he loves to read a lot! His unique talent is the treatment of Alzheimer's disease and dementia. Our Doctor has a U.S. Patented method on the prevention of dementia - truly unique and ahead of its time.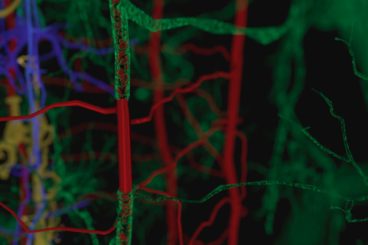 Alzheimer's treatment. A first "senior moment" is not a normal part of aging - this is when you have first noticed that something is wrong with your brain. We will work with you to discover the reason(s).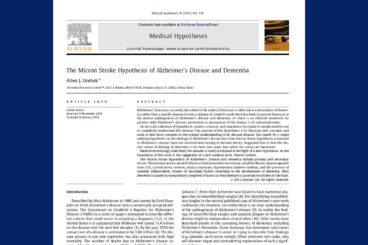 The scientific concepts of micron stroke (Damage to the neurons too small for you to notice and too small for an MRI to see the single event) has been cited multiple times by other academic/specialists who work in the field of Alzheimer's disease and dementia.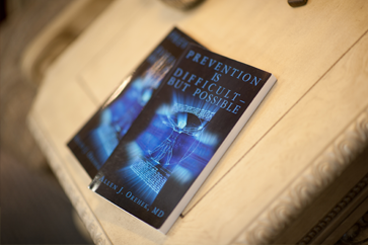 Empowering the reader to be their own personal expert - improving the chances they get accurate care. This book covers a how to work to prevent the spread of a number of cancers and sudden cardiac death.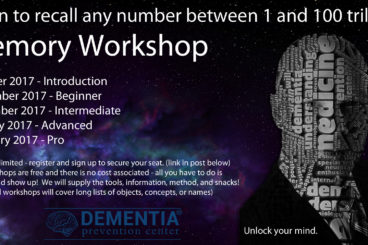 Memory Workshop
Do you want to remember any number between 1 and 100 trillion? Free memory workshop. We will help you learn this skill. While we do concentrate on the treatment of Alzheimer's disease and dementia - we also love the mind and memory. Join us for a series of five free workshops and put your mind to work. Understanding the difference in learning something and just memorization will assist any individual for the rest of their life. Seating is limited - please sign up on our facebook page. There are no costs associated and we will provide the tools, information, method, and snacks. Date: October 6, 2017 Memory Workshop (INTRO) Location: Dementia Prevention Center, One Montage Mountain Road, Moosic, PA. Schedule: 6:45-6:55 p.m. Check in - receive information packet. 6:55-7:00 p.m. Meet and Greet the D.P.C team. 7:00-7:30 p.m. Presentation followed by Q & A. (Allen J. Orehek, M.D.) Memory Workshop (INTRO) - we will present the intro information along with brief explanation of the other workshops. The method for learning a new skill that will help learning will require your attention so come refreshed. Our Doctor has been able to successfully teach this method across a variety of educational backgrounds. This workshop is designed for you - the person who has to work 45 hours a week to keep caught up with life and still make time for your fitness. The brighter you are the further you will be able to advance in both speed of the method and length of number you want to learn. Our Doctor is pretty good with even very long numbers - 20 and 30 digits - He will teach you and help you master this new way to learn. The workshops are designed to progressively work through this new method for you and a prerequisite of each advancing workshop is the completion of the prior work. (Not everyone can do a ring muscle up on their first attempt - we need progression of every skill in life - Memory and learning are the same). November 2017 - BEGINNER Utilizing the concepts introduced during the prior memory workshop individuals will be able to learn and recall numbers between one and 10,000. December 2017 - INTERMEDIATE Those who have completed the prior two workshops will work to learn numbers that are up to 100 million. These will be learned in a way that they can be recalled forward and backward. January 2017 - ADVANCED Advancing the technique to numbers up to 100 trillion, forward and backward - from the middle to the end, from the end to the middle - the number will be learned and you will be able to "use" the number in any way that best suits you. With the advanced workshop we introduce the ability to learn lists of unique objects, names, concepts, places - as examples. This workshop will have an additional 15 minutes in covering the new aspect of this part of the method. (we will start at 6:50 p.m. and still have you out at 7:30 p.m.). February 2017 - Pro. Additional skills for learning any number up to 100 trillion (and beyond). Individuals completing all of the prior workshops and homework assignments will also be able to recall list of up to 20 objects, some even more. Note: All of this sounds amazing, yet it will hardly scratch what the human mind can do. Some humans have hyperthymesia (perfect autobiographical memory) - others are so brilliant they can recite pi out to 67,890 digits - and many other amazing mind skills. This series of memory workshops presented at the Dementia Prevention Center are not designed for those individuals - they do not need any help! This series is for you. Your next trip for groceries will not require a list. MMmm Coffee. Completion of the Pro workshop and using the skill daily you will soon discover that your lists will approach 30+ Our Doctor is good up to 50 and mastering more each year. We hope that someday you will be pushing 100 or more. Long strings of numbers will be mastered and only limited by your imagination. (forward or backward - middle to the end - middle to the first digit) https://www.facebook.com/Dementia-Prevention-Center-218785558286503/
Micron stroke – damage to the brain that is so small as a single event you do not know it has happened and an MRI of the brain will not show it has happened.
Dementia Treatment
Alzheimer's treatments starts with understanding the ways dementia develops.